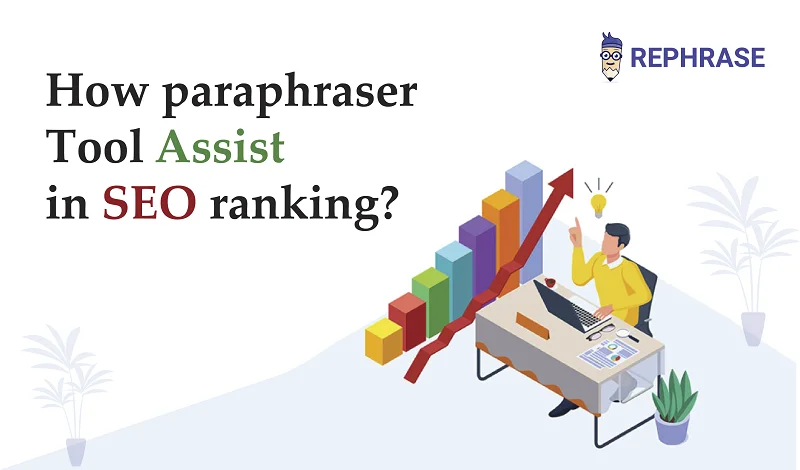 How Paraphrasing Tools Help Improve SEO Ranking?
SEO and Content go hand in hand. Although there are over 200 ranking factors that you need to think about if you want to create an effective digital marketing strategy, the creation of engaging and informative content still stands at the top of the ranking factor hierarchy.
It doesn't matter how great your rest of the digital marketing strategy is, if you can't create engaging content, you won't be able to get the kind of conversions that you want for your business.
Paraphrasing tools are designed to help content marketers improve their content writing skills. These tools offer a myriad of benefits in terms of SEO that you need to know.
Let's go over the most important details about Paraphrasing Tools and how they can prove to be helpful in creating a successful SEO campaign.
What are Paraphrasing Tools?
Paraphrasing Tool is also known as Article Rewriter. These tools are Artificial Intelligence-based online software that helps you rewrite a piece of content automatically.
Paraphrasing tools use AI and NLP to naturally rephrase an input piece of content. As a result, you get a well-formatted, and well-structured, rewritten piece of content that you can publish on your online platform.
Using paraphrased content can help you a lot with your SEO efforts. The paraphrased content is readable and well-optimized to meet the latest formatting and user engagement standards.
How Paraphrasing Tools Assist in SEO Ranking?
Paraphrasing tools can be quite helpful in making your online business SEO efforts a success. Here are some of the most prominent ways Paraphrasing tools can Assist in SEO Rankings for your online business…
Paraphrasing Tools Prevent Plagiarism
Plagiarism is a crime and there are a lot of legal and moral implications of it. You need to avoid plagiarism at all costs if you don't want your online business to get into any kind of trouble.
This is where Paraphrasing Tools can prove to be quite crucial for your digital marketing efforts.
Using the Paraphrasing Tools like rephrase.info, you can remove plagiarism from your content. If you are planning on using an existing piece of content on your platform, you can pass it through the paraphrasing tool to ensure that it doesn't contain any kind of plagiarism.
Getting rid of plagiarism in a piece of content is the first step towards ensuring that you create engaging and high-quality content for your targeted audience.
The readability of a piece of content is one of the most important factors that affect the SEO ranking for a piece of content. Search engines prefer readable content. You need to create content that is easily readable. It involved things like the use of words, phrases, sentences, and paragraph structures that make the content easily readable for the users.
Paraphrasing Tools help you create readable content that you can use on your platform to build up on your SEO efforts. If the content is readable, people are going to take the time to read it because it will be easier for them to consume this content. Paraphrasing allows you to enhance the readability of your content and make it according to the latest search engine optimization standards.
Engaging Content matters the most when it comes to creating SEO content. It doesn't matter whether you have created highly informative content with recommended keyword placement, if your content is dull and bland, then no one is ever going to read it.
Paraphrasing Tools enable you to improve the engagement of your content. These tools use concise sentences with rich words that grab the attention of your audience in no time.
Paraphrasing Tools help rewrite a basic idea in a unique and engaging way, which introduces the readers to a whole new perspective for looking at things. Engaging content brings your content more clicks and your online business better conversions.
When writing content manually, there is always a margin for error. There can always be spelling and grammatical mistakes. And when your readers read the content and see the mistakes, they tend to not believe what you are saying.
An AI Paraphrasing Tool doesn't just help you with content creation, the created content is always accurate and doesn't contain any kind of grammatical mistakes.
How does this factor in with SEO Rankings?
If your content has a lot of mistakes, people will not want to read it. As a result, search engines are going to not give you the rankings that you want because people are just not reading your content. With an AI Paraphrasing tool, there are no such risks. You get to create grammatically correct content which allows you to get a better ranking on search engines.
More Content in Less Time
As a content marketer, you need a lot of content to make your content marketing strategy a success. You can just hope to post content in a single day and then don't come back to it at all.
You need to keep coming up with high-quality content every day to make your online platform stay relevant in the digital world.
Paraphrasing tools help you meet your daily content needs. These tools enable you to create content in an automated way. You can create as much content as you want, in a short amount of time. When you are constantly posting a lot of content on your website, it allows you to drive more search traffic towards your online platform.
Wrapping Up
You need high-quality content for making your SEO efforts a success. You can't just create poor-quality content and hope to get good rankings with that.
The success of search engine optimization efforts ultimately comes down to how good is your content. And when it comes to creating engaging content, you need all the help that you can get.
This is why the use of a powerful, AI paraphrasing tool is essential for digital marketers. We highly recommend that you check out rephrase.info and use this paraphrasing tool to take your content game to the next level.