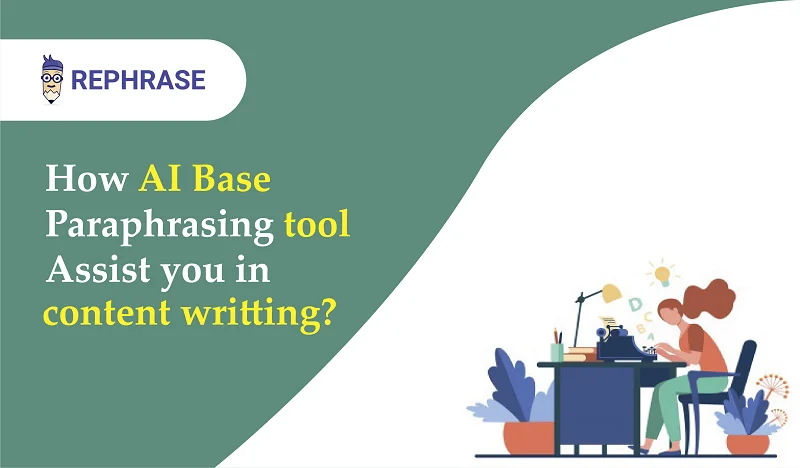 How AI Based Paraphrasing Tools Assist you in Content Writing?
Content Writing is an essential marketing tool that has great significance for Digital Marketers. Content Writing is about writing SEO content for advertising a product, service, or brand through written text.
Writing a good piece of content is an Art. It requires a lot of time and energy. But if you are great at content writing, it can open up a lot of great career opportunities for you.
Content Writing is a fulfilling process. There is no doubt about it.
Still, it is not always easy to come up with content that sells. A lot of Content Writers often hit writer's block when writing content because they just can't find the right words to express a certain idea.
This is where AI Paraphrasing Tools come in!
AI Paraphrasing tools are great for content writers as they can use these tools to facilitate their content writing process.
Let's talk in detail about AI Paraphrasing Tools and the benefits that they have to offer for Content writers
What is an AI Paraphrasing Tool?
Paraphrasing is the process of rewording a piece of content while maintaining its central idea and context. And a Paraphrasing tool helps you paraphrase a piece of content automatically.
There are a lot of AI paraphrasing tools out there that you can check out. We recommend going for an AI-Based rephrasing tool as they are more effective.
Paraphrasing tools in the past were not smart. In fact, they were quite bad at rewording content. These tools simply replaced a word with its synonym and called it paraphrasing.
But AI Paraphrasing tools go way beyond that. These tools understand the writing first and then completely rewrite it while making sure that the content looks natural.
Here are some of the most important benefits of AI Paraphrasing Tools for Content Writers
Benefits of AI Paraphrasing Tools for Content Writers
Unique Content Inspiration
The biggest benefit of AI Paraphrasing tools is that they give you inspiration for unique content. Although it is said that computer programs can't match the effectiveness of manual content writing, AI Paraphrasing tools are becoming incredibly smart each day.
AI Paraphrasers take in a piece of content and rephrase it in a unique and readable manner.
As a writer, if you ever find yourself stuck when writing content, you can take the help of AI Paraphrasing tools to get out of the struggle. You can use these tools to paraphrase content automatically.
After that, you can go through the paraphrased content to learn about more ways to write an existing idea.
Engaging Content Based on Existing Ideas
Content Writers often have to write content on existing ideas. And if the topic that you are writing on is highly competitive and there is already a lot of content about it on the internet, writing unique content on that topic is going to become even more difficult.
Your only option, in that case, would be to use an AI Paraphrasing tool.
AI Paraphrasing Tools help you create engaging content from an already existing piece of content. These tools use rich vocabulary and engaging content structures to add a certain kind of uniqueness to the content which feels highly engaging.
You won't have to waste a lot of time rephrasing an existing idea. You can put the content in AI Paraphrasing tools, and they are going to help you write engaging content in a short amount of time.
Content Writers have to write a lot of content on a daily basis. The need for content in bulk is increasing every day as it is one of the most important ranking factors in the eyes of search engines.
Content Writers can streamline their bulk content creation tasks using the AI Paraphrasing tools. These tools are going to help content writers create a lot of content, without wasting time on manual writing.
If you feel like the topic that you are writing on is not of utmost importance, you can leave the writing job on the AI Paraphrasing tools.
These tools are going to analyze the content and rewrite it for you automatically. You won't have to do any kind of manual writing at all.
Effective Time Management
Running a successful content marketing campaign requires thorough planning. You need to manage your time effectively and make sure that you take care of all the jobs that are assigned to you for the day.
Content Writers have to manage their time vigorously because the urgent need for content is always there.
AI Paraphrasing Tools allow you to manage your time effectively by helping you streamline your content creation tasks. These tools create the content for you so that you don't have to do it yourself. You can leave the menial content creation tasks to the paraphrasing tools and spend your time planning the rest of your content marketing strategy.
AI Paraphrasing Tools help content writers meet their content deadlines. New and fresh content is needed on a consistent basis for making online businesses successful in the digital world.
Manual content creation is time-consuming. And if you don't have enough time on your hands to write content manually, using the AI Paraphrasing tools can go a long way for you.
With AI Paraphrasing Tools, you can meet your content deadlines in the most effective way. These tools help you create content that you urgently need.
Wrapping Up
Content Writing is a task that takes a lot of time and energy. And if you are running out of both, then using an AI Paraphrasing tool would be the next best thing for you.
These tools will help you with your content writing tasks and will enable you to get more done in less time.
But you need to make sure that you only use AI-Based Paraphrasing tools because these tools help write content that is completely natural and human-friendly.
We highly encourage content writers to check out AI Paraphrasing tools for all kinds of content writing purposes.